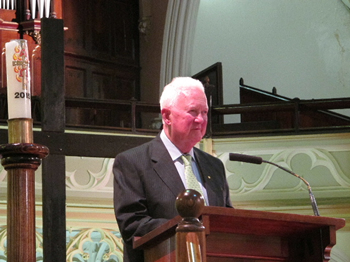 Friday 31st July 2015
I am conscious of the brilliant eulogy to Michele delivered by Jeff McMullen at the service to commemorate her life in Sydney and the touching contribution of Pia Pagotto from 'concerned Australians' at this event and will not attempt to emulate them here.
I thought today I would just say a few words about my relationship with Michele and her wonderful 'concerned Australians.
I start with a confession that I was something of a latecomer to Aboriginal and Torres Strait Islander issues before my appointment as Chief Justice of the Family Court of Australia. Because of the significance of children to the work of the Family Court and my concern that it was not reaching out to the Indigenous people of Australia I took a number of steps to try to correct that situation.
This is not the place to discuss those measures but that involvement did teach me much about the remarkable qualities of the Aboriginal and Torres Strait Islander people and also to form a better appreciation as to how they have been shamefully neglected and mistreated.
To me that neglect and mistreatment culminated in the Howard Government's 2007 intervention, which was an entirely spurious exercise based upon false premises, which effectively shattered the morale and lifestyle of the Aboriginal people of the NT.
The election of the Rudd government seemed to me and many others to usher in a new dawn, particularly having regard to PM Rudd's well-crafted and significant apology delivered at Parliament House.
Unfortunately those expectations were soon dispelled, for me by Michele. I was approached by Michele in 2009 to assist her as a result of a suggestion to her from my old friend and colleague, Judge John Hassett. She wanted me to examine so-called consultations carried out in the NT between June and August 2009 at the instance of the Rudd Government and in particular the then Minister for Aboriginal Affairs, Jenny Macklin. The purpose of them was to gain Aboriginal support for the continuation of a number of quite objectionable features of the Intervention. This they failed to do. I quickly became horrified by the shamefully inadequate and insulting nature of those consultations. I then worked further with Michele and others on the issue and that in turn led to the production of the Report, Will they be heard? Co-authored by Professor Larissa Behrendt, Alison Vivian, Nicole Watson, Michele and me. That report was launched by the late Malcolm Fraser, former Prime Minister of Australia, in November 2009 and provided a withering condemnation of what the Government had done.
Read more: Michele Harris: Reflections by the Hon. Alastair Nicholson AO RFD QC