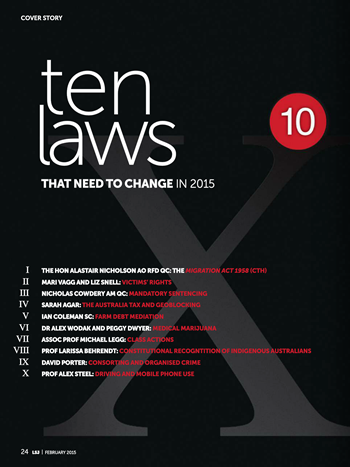 There are many laws across the state (New South Wales) and the country that are subject to the scrutiny of the legal profession. Key legal professionals give their views on the laws that need to change - and why

edited By Klara Major and Jane Southward, Law Society Journal, February 2015 pp.24-35.
The following extract is reproduced with the permission of the Law Society Journal.

I. Asylum Seekers, Children and the Migration Act 1958 (Cth)
by the Hon. Alastair Nicholson AO, RFD, QC
The many changes made to this legislation over the years since the 1990s, culminating in the recent Migration and Maritime Powers Legislation Amendment Act 2014, have produced a situation where the Migration Act 1958 and the policies behind it are among the most regressive and unfair in Australian history.
They rank in infamy with the Stolen Generation and the historical ill-treatment of Aboriginal and Torres Strait Islander people and the White Australia Policy. Indeed they reflect aspects of the White Australia policy.
The complete text of the Hon. Alastair Nicholson's discussion can be found by following the link to the Law Society Journal at the bottom of this page. The other laws identified for change in this article are:
II. Marv Vagg and Liz Snell: Victims Rights
III. Nicholas Cowdery AM QC: Mandatory Sentencing
IV. Sarah Agar: The Australian Tax and Geoblocking
V. Ian Coleman SC: Farm Debit Mediation
VI. Dr Alex Wodak and Peggy Dwyer: Medical Marijuana
VII. Assoc Prof Michael Legg: Class Actions
VIII. Prof Larissa Behrendt: Consititutional Recognition of Indigenous Australians
IX. David Porter: Consorting and Organised Crime
X. Prof Alex Steel: Driving and Mobile Phone Use