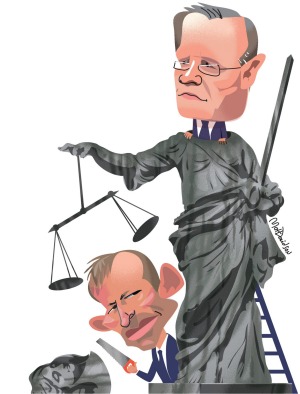 Courtesy of The Age, illustration by Matt Davidson
published in The Age, Comment, December 14, 2014
by Alastair Nicholson


It is time for all Australians to recognise that stopping the boats is not the answer to the refugee problem.
The issue of refugees is a global one deserving better than the shallow policies developed by successive Australian governments. History will not be any kinder to present Australians than to those of former eras in respect of their racist policies towards Aboriginal and Asian people.
Australian attitudes are curious since most of us, with the exception of the first Australians, are descended from refugees of one sort or another.
Unfortunately, most politicians think that stopping the boats resolves the matter.
The government's latest legislation makes superficial concessions that hide an outrageous scheme that shuts out the rule of law, confers worrying powers on the Immigration Minister, unilaterally amends the Refugee Convention and trashes Australia's former reputation as a good international citizen. Its passage was achieved by Scott Morrison using refugee children as hostages, offering a trivial increase in the number of humanitarian refugees accepted by Australia and making minor changes while leaving most asylum seekers in limbo with temporary protection visas or so-called safe haven visas.
At the end of 2013 an estimated 52 million people around the world were displaced, representing the greatest disruption of peoples since World War II. Overall, 50 percent of these refugees are children.