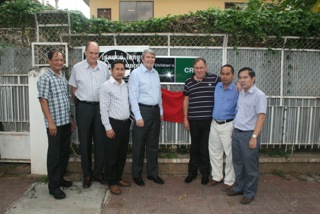 Touch Chiva (LAC), Denzil Sprague (CRI), Kimleng
Ouk (LAC), Frank Meredith (CRI), Bill Jackson (CRI),
Run Saray (LAC) and Op Vibol (LAC) at the opening of
CRI's new Cambodian office.
CRI's Man in Phnom Penh
By Margaret Harrison, CRI Board Member
CRI now has a country representative in Phnom Penh to assist us in a voluntary capacity with the many and varied administrative tasks associated with the conduct of our Cambodian juvenile justice project. Denzil Sprague is an Australian business man and long term resident of Phnom Penh, whose interest in the education and welfare of young Cambodians has already benefitted many primary school children in the district of Pouk Ressey and who has become an invaluable part of the CRI team, as a liaison person in our dealings with banks and other non-government and government organizations in Cambodia. He is a former farmer, pilot, arts/law graduate and brick factory proprietor, who in the past 4 years has assumed responsibility for the building of a school and the welfare and educational advancement of its 800 students. Many more young Cambodians have already completed their primary schooling as a result of his endeavours.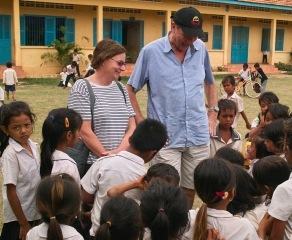 Margaret Harrison, Denzil Sprague
and the students at Pichey Rangsey school
Soon after arriving in Phnom Penh Denzil became aware of the straitened circumstances of many Khmer people, and particularly of the children of poor provincial families who, in the aftermath of the Pol Pot regime, were faced with an absence of both schools and teachers. His contact with the village of Pouk Ressey, a poor community living on the banks of the Mekong River, 23kms north of Phnom Penh, began when he took over a financially struggling brick factory and became the employer of 30 local families from the district. His role as employer soon saw him improving the working conditions of those families and also assuming responsibility for the provision of medical care, sanitation and school uniforms for their children. Soon after Denzil became involved with the village, he was approached by the monks of the local pagoda in which the old school stood, who asked for his help in replacing its buildings, which were unsafe, unsanitary and in urgent need of repair. The school had been built soon after the defeat of Pol Pot, when available building materials were scarce and inferior. Indeed, the timber still showed bullet and shrapnel damage. The monks owned land across the road, adjacent to the pagoda, and agreed to donate it for a new school if Denzil would pay the necessary expenses. He willingly assumed that responsibility.
Construction began in January 2008 and by mid 2009 three buildings, each containing 5 classrooms, together with toilet blocks, were finished, and occupied by the students of the former school. The new classrooms were dramatically different from the dark, damp and depressing ones of the old school, where there were no toilets or sufficient playing area. Once the grounds were landscaped with a roadside wall and classic Khmer gateway, they were safer and more appropriate for the children's games.
Pichey Rangsey school was officially opened by the Cambodian Minister of Education, together with the then Ambassador of Australia, Margaret Adamson, in May 2010 before a crowd of 3000 people. Subsequently and in recognition of his services to education and to Cambodia Denzil was awarded the medal, Commander of the Royal Order of Monisaraphon.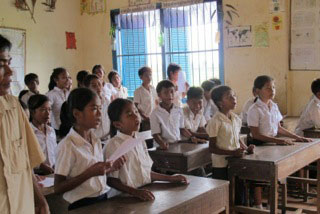 Pichey Rangsey school
Since its opening the school has continued to present a number of new challenges and Denzil has continued to meet them. The children's poor general health was an urgent problem and was affecting their general wellbeing and ability to concentrate and participate in classes. The introduction of a health program in January 2011 resulted in all children being assessed to determine their particular health status and needs. Nearly two thirds were found to be underweight for their age and malnourished, and many had tooth decay and other related dental problems. Parasite control was considered essential, as their proximity to domestic animals had exposed the children to parasites from birth. Vitamin A supplements were also given, as well as personal and dental hygiene information. These measures have already greatly improved the students' physical appearance and attentiveness, and a follow-up medical examination six months later showed that the proportion of those who were initially underweight had reduced from 64% to 32% - a significant decrease considering the minimal treatment given.
The teachers estimated that about 240 of the children came from particularly poor families with no ability to buy school uniforms, so Denzil bought and distributed approximately 700 of these, as well as 800 pairs of shoes, which were provided by the Cambodian Children's Foundation. Currently, negotiations are also taking place for dental treatment to be provided on a pro bono basis and, by linking up with other organizations Denzil has managed to acquire a number of footballs and bicycles. Electricity has now been connected to the school, making possible the setting up of computer training classes and the display of overhead projection material.
A strategic alliance has been established between Melbourne's Caulfield Grammar and the Humanitus Foundation, which have both greatly assisted Denzil's efforts for the children's welfare and enjoyment of their time at school. Caulfield Grammar Primary School students have already raised funds to pay for bicycles, uniforms and school equipment and this funding will also help with the development of the playing area and the introduction of sports, all of which will be a new experience for the students.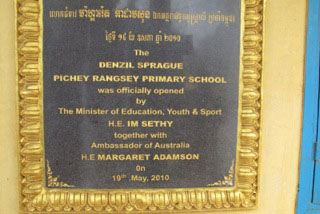 Pichey Rangsey school
Denzil is also well aware of the extent to which human trafficking flourishes in Cambodia and the dangers it poses for the country's young population. It is estimated that up to 200 under age children are stolen every week in Phnom Penh. Predators prey on the naivety of children from poor provincial villages, offering them well paid "jobs" in the city, something the Pouk Ressey community became aware of recently when a teacher brought the plight of a female grade 6 student to Denzil's attention. She was prevented from working in Phnom Penh and both the school director and a Khmer lawyer subsequently and at Denzil's request, spoke to the children about their human rights, the dangers of drug abuse, human trafficking and pedophilia. One of the risk factors for young Cambodians is the chronic shortage of skills and employment opportunities available to them, which is exacerbated by the large numbers (200,000) of high school pupils graduating at Years 9 and 12 each year. More vocational training tailored to the needs of the business industry in all fields is needed and to this end Denzil is exploring the possibility of extending the Pouk Ressey primary school campus to include vocational training at Years 7 to 9. The teaching of English in grades 5 and 6 has also been formalized in tandem with a policy which is currently being introduced in Government Schools throughout Cambodia. These initiatives will not only prepare students for employment positions, but should reduce the numbers of those dropping out of the secondary education system to help in the family business, or becoming prey to traffickers.
Denzil Sprague's policy is to continue the progress and development of the Pichey Rangsey school by adding facilities that will enhance the children's education. He is a strong believer that a strong emphasis on the education of children is the fundamental element in the future development of any country, even more so in Cambodia where recent historical events so tragically decimated the social structure. Denzil suggests that his work in building the school has laid a sound foundation from where further development must provide the basic amenities, facilities, equipment and improved academic building blocks that these children have been denied. Financial support to ensure that the school continues to flourish and enhance the lives and opportunities of its students is a need of considerable priority.
Anyone wanting further information about the Pouk Ressey school or wishing to donate to it please e-mail Denzil Sprague at: This email address is being protected from spambots. You need JavaScript enabled to view it.