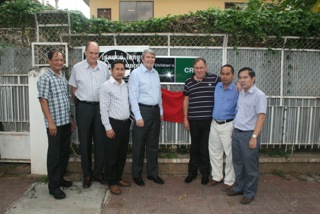 Touch Chiva (LAC), Denzil Sprague (CRI), Kimleng
Ouk (LAC), Frank Meredith (CRI), Bill Jackson (CRI),
Run Saray (LAC) and Op Vibol (LAC) at the opening of
CRI's new Cambodian office.
CRI's Man in Phnom Penh
By Margaret Harrison, CRI Board Member
CRI now has a country representative in Phnom Penh to assist us in a voluntary capacity with the many and varied administrative tasks associated with the conduct of our Cambodian juvenile justice project. Denzil Sprague is an Australian business man and long term resident of Phnom Penh, whose interest in the education and welfare of young Cambodians has already benefitted many primary school children in the district of Pouk Ressey and who has become an invaluable part of the CRI team, as a liaison person in our dealings with banks and other non-government and government organizations in Cambodia. He is a former farmer, pilot, arts/law graduate and brick factory proprietor, who in the past 4 years has assumed responsibility for the building of a school and the welfare and educational advancement of its 800 students. Many more young Cambodians have already completed their primary schooling as a result of his endeavours.